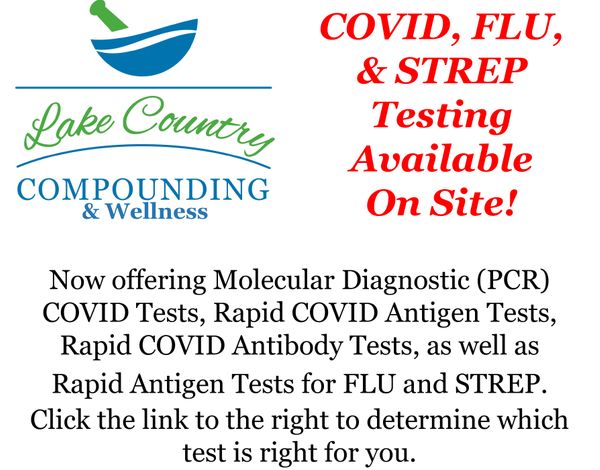 All Testing Is By Appointment Only
We offer 6 tests:
COVID Tests:
Rapid PCR/Molecular Diagnostic Test - "Gold Standard" for active viral tests; likely required for travel through, and to, many destinations
Rapid Antigen Test - currently sick/symptomatic; may be allowed to some travel destinations as well
Rapid Antibody Test - sick or exposed in the past (does not indicate current infection)
Rapid Antigen COVID/FLU Combo Test – currently sick with mixed symptoms/concerns of illness
FLU & STREP Tests:
Rapid Antigen FLU A/B Test – currently sick/symptomatic with flu-like symptoms, and have ruled out potential COVID infection
Rapid Antigen STREP A Test – currently sick/symptomatic with sore throat symptoms indicative of potential Strep Throat infection
CLICK HERE to read more on the testing types, or click below to schedule now!
Your Home for Healthy Living
The days of personal therapy, service, and quality from your pharmacy have not been forgotten here at Lake Country Compounding & Wellness. Founded by brothers Carey & Chris Vaughan and now located at Harmony Medical Center in Eatonton, we have been serving the communities of Greensboro, Eatonton, Madison, Milledgeville, Lake Oconee, and Lake Sinclair since 2013. We have also been providing compounding services in the Lake Area since 2008. Come let our family take care of your family.
Proudly offering Custom Medication Compounding, Professional Grade (third party tested) CBD Products, Nutritional Depletion & Support Supplements, Medical Equipment and Supplies, and introducing Diabetic/Therapeutic Shoes & Insoles, and a full line of Medical Grade Compression Stockings in 2021. We are also very excited to begin offering the lifestyle wellness program "Take Charge" in early 2021 to improve blood sugar/blood pressure/cholesterol and promote healthy weight loss, as well as direct to patient Bio-Identical Hormone Replacement Consultation & Testing, for Women and Men, from our certified Hormone Specialist. We will give you & your health the time that you deserve. To stay well and feel better every day, come see us at Lake Country!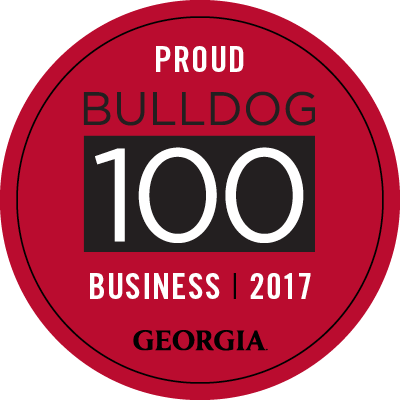 Your pharmacy should do more than just fill prescriptions
We are dedicated to providing a wide range of high quality services that meet all of your health care needs. Call, click, or stop by today and find out how we can help you!